Koala Bids Farewell to Marie and Stacy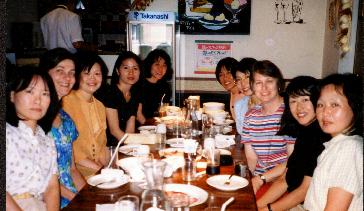 In June, Koala mothers gathered for a farewell luncheon in honor of departing members Marie and Stacy.
We will miss Marie, Stephanie, and Joshua, who moved to Michigan, USA. Marie was a member of Koala Bunko for eight years, beginning when her older daughter Sharon was in elementary school.
Stacy and Elissa moved to Minato-ku this summer, and due to the long traveling time required to get to the meetings, will no longer be able to attend Koala regular meetings. They will remain active in Koala's website.